CANAAN GOURMET PACKAGE


Splendid Food from Israel

Status:

« Back to Shop
This special package brings you a prestigious selection of the gourmet foods we produce from the olive oil yield of our groves in Israel.
The package contains a 5 oz. / 140 gr. glass jar of each of the following delicacies: Garlic flakes in olive oil, pickled lemon spread, green olive spread, basil pesto and home style cured pitted olives. You will also find a 17 fl.oz. / 500 ml. bottle of our premium olive oil
Consumer Review:
(25 reviews)
Partners Joining Package Reimbursement: With each order we reimburse part of your joining fee before checkout.
Regular Price:
££59
Partner's Price:
££45
Your save:
£0
Additional Product Info.
JEWISH TRADITON: We keep Kosher and observe the Tithe of the Tithe commandment; we also do not harvest the grove till its 3rd year. ("ORLA"). FRESHNESS: We hold the highest quality standards of freshness and quality. EXPIRATION: 12 month. SHIPPING: Within 3 days from receiving your order.
HANDLING FEES / HIDDEN FEES: None. RETURNS?  MORE QUESTIONS?  No problems! Email us at order@israelolivebond.com and our knowledgeable Costumer Service representatives will be happy to assist you.
Awards & Certificates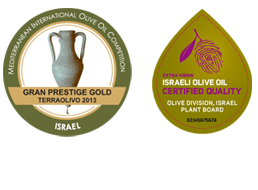 Product Review
"…These gourmet
foods are wonderful:
they not only taste
great but also smell
fabulous!".

Edward Smeets
Utrecht, HOLLAND
Partners Who Bought This Item Also Bought: