Click Here and get your FREE olive tree in the Land of the Bible!
Local Species
SURI: This species probably gets its name from its origin in the city of Tyre (Tsur) in Lebanon, and not from Syria, as the Hebrew name seems to indicate. The suri is an ancient species with fruit that is particularly rich in oil, about 20-35%. Differences in the quality of oil from different suri olive groves are due to differences in soil quality, rainfall, irrigation, and the quantity of fruit produced.
Nabali: This is the main species that grows in the mountains of Samaria. The name is a corruption of the Roman name of the city of Neapolis (present-day Nablus, or Shechem in Hebrew). The Nabali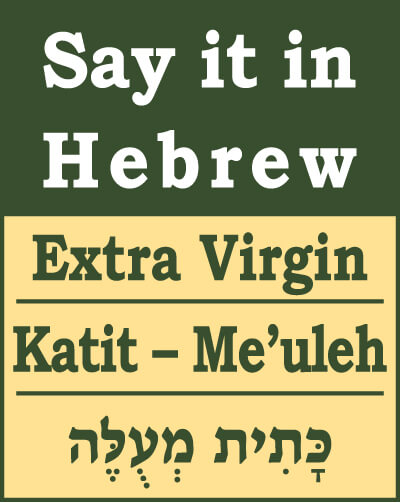 species is similar to the suri but ripens earlier. It can withstand severe climate conditions and drought, and the flesh of the fruit is softer than that of the suri.
New Species Developed Locally
Israel is a world leader in the physiological and biochemical research of new species. Israel is also a world pioneer in the development and improvement of olive groves, thanks to the development of the technology of growing olive trees in arid regions, using irrigation and intensive cultivation methods.
Barnea: After the Six Day War (1967), Professor Shimon Lavie of the Hebrew University in Jerusalem brought a number of olive tree shoots from Kadesh Barnea in the Sinai Peninsula, that had been planted there in the 1920s by the British governor of Sinai. After 20 years of research at the Hebrew University and the Volcani Institute, the barnea species was developed. It is characterized by rapid erect growth, allowing dense planting suitable for automatic harvesting.
The barnea gives excellent fruit in the third year after planting, with a 20% content of oil of a particularly high aromatic quality.
Maalot: Another species developed in Israel, with high resistance to pests, suitable for automatic harvesting, bearing small fruits containing 20% oil with a unique aroma, it is suitable for both seasoning and frying.
Imported Species
A number of imported olive species are also grown in Israel, mainly from Spain. The Manzanillo (the name, which means "little apple" in Spanish, referring to the round shape of the fruit), grown mainly for pickling, the Picual, which comes from Andalucia in Spain, the Arbequina from Catalonia in Spain suitable for dense planting and automatic harvesting, the Picholine from southern France also mainly grown for pickling, and the Koroneiki, which originates from the island of Zakinthos, Greece, and which bears small fruit.